ALTER, Belgium – 20 January 2014 – the first ever pan-European patient/carer perspective on optimal care of the rare genetic disorder phenylketonuria (PKU) has been published in the Orphanet Journal of Rare Diseases. This paper, supported by the European Society for Phenylketonuria and Allied Disorders Treated as Phenylketonuria (E.S.PKU), underpins significant deficiencies and inequalities in medical and social care, and psychological support of those with PKU. It also makes the case for action to be taken to improve the detection and management of the condition on a number of fronts, including:
Mandatory, universal screening for PKU in newborns
Equal access to treatment and monitoring of the condition throughout Europe
Agreeing new standards of best practice
Establishing European Centres of Expertise
Reimbursing all aspects of treatment
Specific interventions for high-risk groups
Increasing the number of available healthcare professionals where required and elevating the status of dietitians
Access for patients to multi-disciplinary teams
Training for carers to provide more comprehensive social support for people with PKU
The paper was been developed by consensus of a working group led by Tobias S Hagedorn, Executive Board member of the E.S.PKU and Chairman of the German PKU Society (Deutsche Interessengemeinschaft für Phenylketonurie und verwandte Stoffwechselstörungen DIG PKU), following a multi-national stakeholder workshop involving representatives from 15 different countries, and of the findings from a benchmark report previously developed by the E.S.PKU and presented at the European Parliament in February 2012.
Eric Lange, President of E.S.PKU said: "The publication of this consensus paper is a significant milestone in the collective effort to improve the treatment and management of PKU in Europe. It represents the most far-reaching attempt to date to capture the views of patients, professionals and advocates, providing a blueprint for universally supported guidance for clinical practice. Despite the availability of accurate screening techniques, European Society for Phenylketonuria and allied disorders treated like Phenylketonuria www.espku.org dietary management protocols and effective treatments, PKU management remains under-resourced with unacceptable variations in care across a number of countries."
It is now hoped that European healthcare professionals will develop evidence-based guidelines for use in clinical practice based on the principles set out in the consensus paper. EU policy makers will also be briefed on the importance of taking a comprehensive, standardised approach to the management of the condition across the region.
The paper is an open access publication and freely available here: http://www.ojrd.com/content/8/1/191. Development of the paper was supported by an unrestricted grant from Merck Serono, a division of Merck KGaA, Darmstadt, Germany, with no influence on any content.
Progress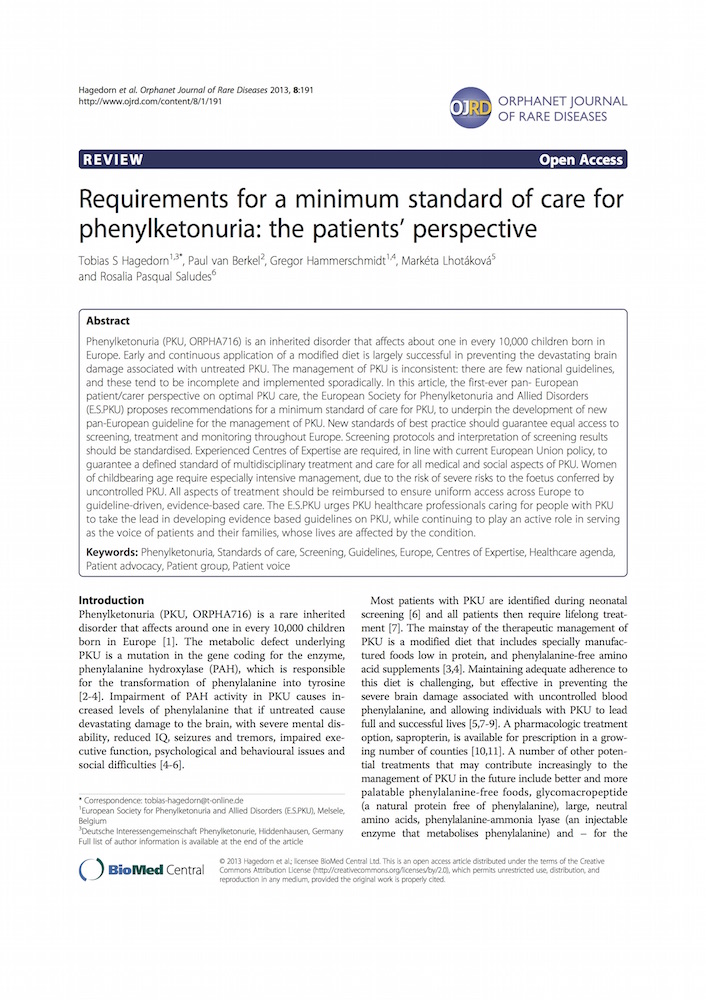 Official E.S.PKU Press Releases
---