---
28th of June is International PKU Day Like many rare diseases, it is a characteristic of Phenylketonuria that the general public is not sufficiently informed on the disorder and the needs of patients.
At the ESPKU Delegates Meeting 2013 in Antwerp, it was decided to initiate the International PKU Day, taking place annually on June 28th. This is quite a special day because, not only is it nicely in the middle of the year but also, it is the birthday of two stalwarts of PKU, Robert Guthrie (1916-1995) and Horst Bickel (1918-2000).
Regional, national or international associations, individuals like patients and their relatives, health care providers, public bodies such as insurance companies, food producers and other industries in the field of PKU – everybody is invited to organise events or activities that appeal to the general public and raise awareness of PKU.
As of today, International PKU Day becomes more visible: The newly created logo appears in light blue, green and dark blue. The belt around the globe symbolises the world-wide solidarity of PKU patients and their desire for public perception.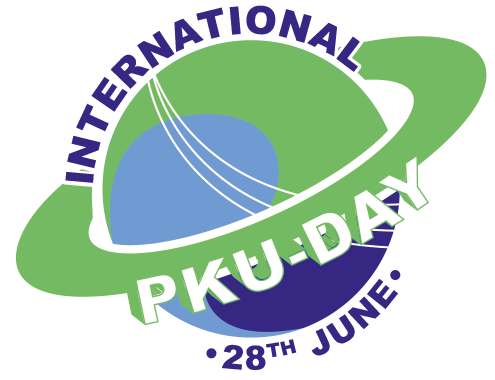 Official PKUDay Website
Visit PKUDay.org