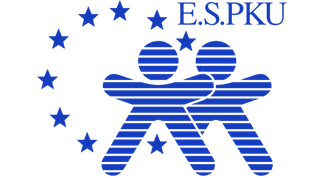 Non-Profit umbrella organization representing european countries
---
We are representing
oranizations in Europe
The E.S.PKU Story
---
The European Society for Phenylketonuria and Allied Disorders Treated as Phenylketonuria (or E.S.PKU) is the umbrella organisation of about 41 national and regional associations from 31 countries established by parents.
Since 1987, representatives of most European countries have come together to improve the quality of life of persons afflicted.
The rather short history of the E.S.PKU already shows that the quality has improved considerably.
The main event of the E.S.PKU is a yearly European conference. This conference is unique, since both patients (and parents) as well as medical representatives join this meeting. The patients have their own sessions and there is a medical conference. In between the sessions there is time enough to get to know each other.
Next to this conference the E.S.PKU supports the members. The organisation has its own lobby in the EU. And has good contacts on European (and worldwide) level with companies.
The E.S.PKU makes a difference between Legal members, Associate members and Honorary members.
Legal members are national or regional organisations. Their aims must correspond to the aims of the E.S.PKU. Associate members are those organisations, which do not pay a membership fee. And Honorary members are individuals or organisations nominated by the general meeting. The E.S.PKU itself has an Executive board of four members. Next to the executive board there is also a Scientific Advisory Committee or SAC. This a group of professionals who are confronted with PKU in their daily work. They keep the E.S.PKU informed about the latest scientific developments on PKU and provide advice.
Boardmembers
---
President
mr. Eric Lange, United Kingdom
Vice-president
mr. Gregor Hammerschmidt, Austria
Secretary
mr. Tobias S. Hagedorn, Germany
Treasurer
mr. Maarten Criem, Belgium
Assessor
mr. Paul van Berkel, Netherlands
Scientific Advisory Committee
---
Chairman
prof. dr. Francjan J van Spronsen, MD, PhD
Paediatrician Metabolic Diseases, UMC Groningen, Netherlands
Vice-chairman
prof. dr. Maria Gizewski, MD, PhD
Paediatrician Metabolic Diseases, Pomeranian Medical University, Poland
Secretary
mrs. Kirsten Kiaer Ahring, RD, Msc
Dietician, Kennedy Institute, Glostrup, Denmark
Member
prof. dr. Anita MacDonald, RD, PhD
Dietician, Birmingham Children's Hospital
Our Member Countries
---
Austria, Belarus, Belgium, Bulgaria, Croatia, Czech Republic, Denmark, Estonia, France, Georgia, Germany, Greece, Hungary, Iceland, Ireland, Israel, Italy – ASMME, Italy – APMMC, Latvia, Lithuania, Macedonia, Moldova, Norway, Palastine (Gaza), Poland, Portugal, Romania, Serbia & Montenegro, Slovakia, Slovenia, Spain, Spain-Galacia, Sweden, Switzerland (French), Switzerland (German), Turkey, Ukraine, United Kingdom
E.S.PKU Statutes
Our Account
---
KBC bank
Burgstraat 57
9000 Gent
Belgium
IBAN number: BE66 7360 0196 7043
BIC code: KREDBEBB
Contact E.S.PKU

E.S.PKU Members
PKU is an inherited disorder, caused by a faulty gene. People with PKU are born with a deficiency of a liver enzyme calledphenylalanine hydroxylase (PAH). PAH is needed to process an amino acid called phenylalanine (Phe), found in foods containing protein. (Protein is made up of around 20 separate building blocks called amino acids). High protein foods include dairy products, red meat, chicken, fish, eggs, nuts, beans and lentils.
Usually, when we eat protein, it is broken down into different amino acids and used for growth, functioning and repair of the body. Because people with PKU can't break down phenylalanine in the usual way, it builds up in the blood and damages the brain. People with PKU need phenylalanine, but only a small amount.
People with PKU cannot break down foods containing protein in the usual way. When PKU is detected early and treated with a special diet, children are able to reach their full potential.
Finding out your child has PKU always happens suddenly and unexpectedly. The news of the diagnosis is a shock. Most parents have never heard of PKU, so receiving the diagnosis can be frightening and confusing.
All babies born in most countries in Europer are tested for PKU soon after birth, usually the second or third day. A blood sample is taken from a needle prick on the heel, and the phenylalanine level is measured. If it is high, more tests are done to confirm that the baby has PKU. As soon as the diagnosis is made, the baby is given a special formula (also called a supplement) to lower the phenylalanine to a safe level.
Before birth, the mother's blood circulation can deal with the baby's phenylalanine and the level stays within the normal range. Immediately after birth it starts to rise.
Maintaining the diet in childhood is essential to prevent damage to the growing brain. It is recommended that the diet is continued for life.
E.S.PKU is an umbrella organization and looking forward to more members constantly. A unified voice is always a stronger voice. Typically there is only one country organization that joins E.S.PKU but there can be exceptions made. If you are interested in joining us please 
contact us
 and provide more information about your organization. You're also welcome to approach us at any occasion, like the annual conference, directly! Please understand that it's only possible to become a legal member with a voting at the general meeting.